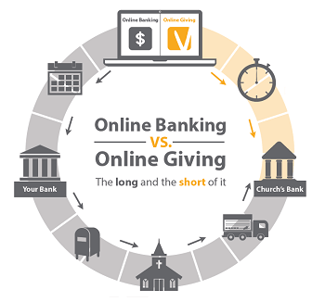 Writing checks has become as outdated to some of us as popping a tape in a VCR or making a call on a payphone. More of us are paying bills and contributing to churches and charities online, through our banks or directly through websites and mobile apps.

For churches that offer it, online giving saves their staffs time and moves contributions into their accounts in a few days. Instead of sorting through paper checks and counting cash, filling out deposit slips and taking everything to the bank, church administrators have near real-time access to contributions and reports through their e-Giving provider.

Except when they don't. There's a difference between online giving and online banking that many of your church members may not be aware of — banks must process many online bill pay transactions by cutting and mailing paper checks.
Both are convenient and secure ways to give online, but members who give through their banks instead of your church's online solutions won't lessen the administrative burden on your staff if it still has to receive and process checks. And the church may not receive their contributions for several days, or even weeks, though they'll likely be deducted from the members' accounts almost immediately.
Online Banking: The long path to payment
I'll use my bank and my church to illustrate.
Let's say I've set up my bank's online bill pay feature to automatically send in my weekly pledge, just like I pay my cable bill. But, unlike the cable company, my church isn't set up to accept electronic payments from my bank, so the bank will have to cut a paper check to begin this long path to payment.
• Although my bank debits my account almost immediately for the amount of my pledge, it could take up to five days for the bank to mail a check to my church.
• The check is in the mail, but it could take a few more days before my church receives and opens it. (Assuming the check isn't lost in the mail.)
• The check must then be manually recorded and processed, just like the ones that go in the plate on Sundays.
• Now, someone in the church office has to fill out a deposit slip and take the check to the bank.
• The funds still have to be released by my bank before the contribution is available in my church's account. That's going to take at least another day.
• Total time: Up to 2 weeks
Online Giving: 5 times faster
Contributing with a credit or debit card through my church's online giving page, or through giving by text or kiosk, is five times faster.
• When a credit or debit card transaction is processed through my church's e-Giving provider, the church electronically receives the contribution — no paper check needed.
• The charge will appear on my next credit card statement, which I'll also pay electronically and earn reward points.
• The transaction is also updated automatically in the church's online giving account. The church and I each have a record of my contribution that can be accessed anytime, anywhere through the Internet.
• Total time: 2 to 3 days
We've developed an infographic that shows the timeline for both types of contributions. Download and share it with your members to help them understand how contributing through online giving can provide greater benefits to them and the church.